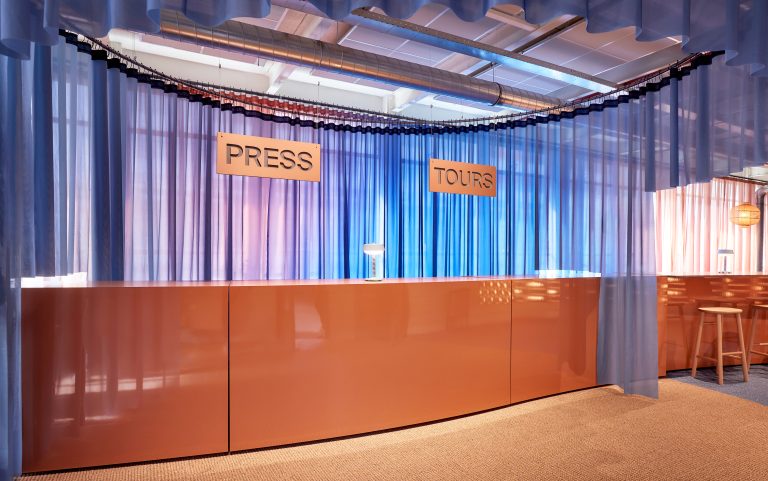 In our creative journey, partner dedication was key to realizing this lounge. Their commitment became the catalyst for pushing creative boundaries, crafting an extraordinary experience.
At the heart of our creation stood a remarkable 12-meter-long bar, winding through the space like a lively serpent, showcasing the versatility of design. This multifunctional masterpiece not only functioned as a vibrant coffee bar but also seamlessly transformed into a press and tours desk, as well as a dedicated working station for the press. It embodied our commitment to both aesthetic appeal and practical functionality.
Our inspiration emanated from the marriage of vivid colors and thoughtful material selections, meticulously curated to construct an atmosphere of cheerfulness and optimism. Within this space, the palette was deliberately devoid of the traditional black, white, or grey, embracing a spectrum of lively colors that danced harmoniously together.
In the collaborative spirit of design, this project saw a dynamic partnership with Evelien Reich from Elle Decoration. The fusion of creativity between Daphna Laurens studio and Evelien Reich played a pivotal role in shaping the unique character of the Business Lounge. Together, we crafted an environment that not only showcased our design philosophy but also resonated with the spirit of the Dutch Design Week, leaving a lasting impression on all who experienced it.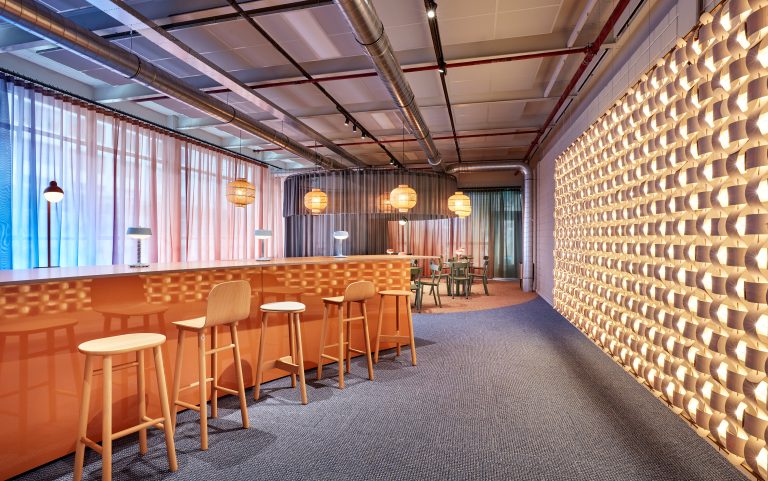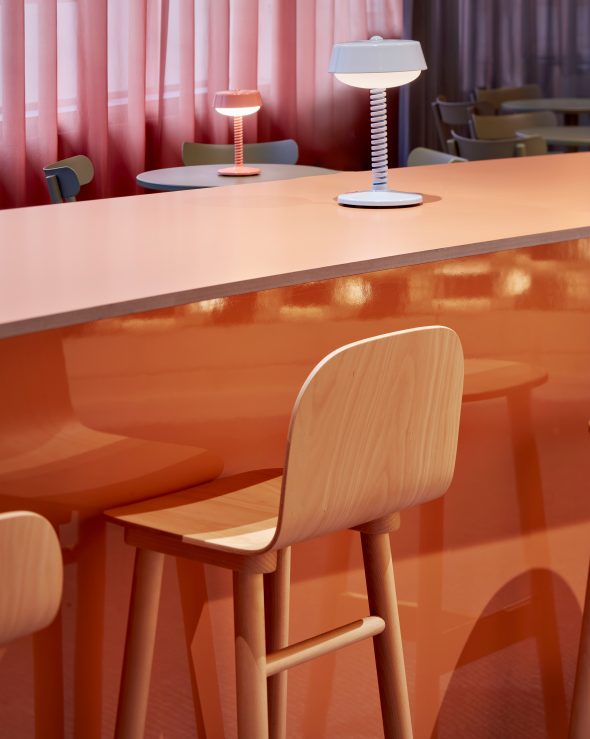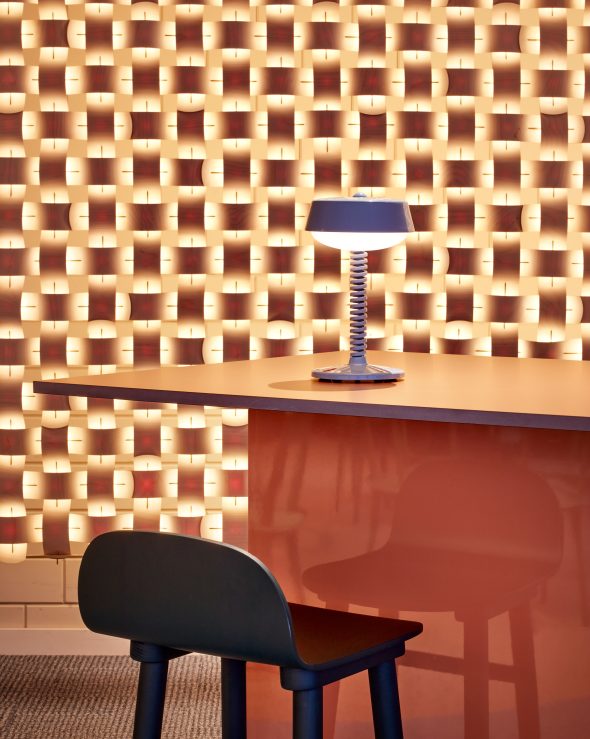 We were captivated by the allure of Formica® Laminate in Earthenware, paired with the MicroDot and AR Plus ® textures. These hues and textures harmonized perfectly with the vision we had for the bar at the Dutch Design Week Business Lounge 2023.
Our partners for the Dutch Design Week Business Lounge 2023
Blok Plaatmateriaal
Elle Decoration
Zuiver
Tarkett
Van Esch
JAPTH
HK Living
Rutjes Reclame
Brabantia
Homopal
Hoevenaars
Fést
Fatboy
DUM
Formica
Bang&Olufsen
Marjan van Aubel
LABEL Vandenberg
Rick Tegelaar
We had the chance to work with the Desso and Patricia Urquiola carpet tile collection by Tarkett.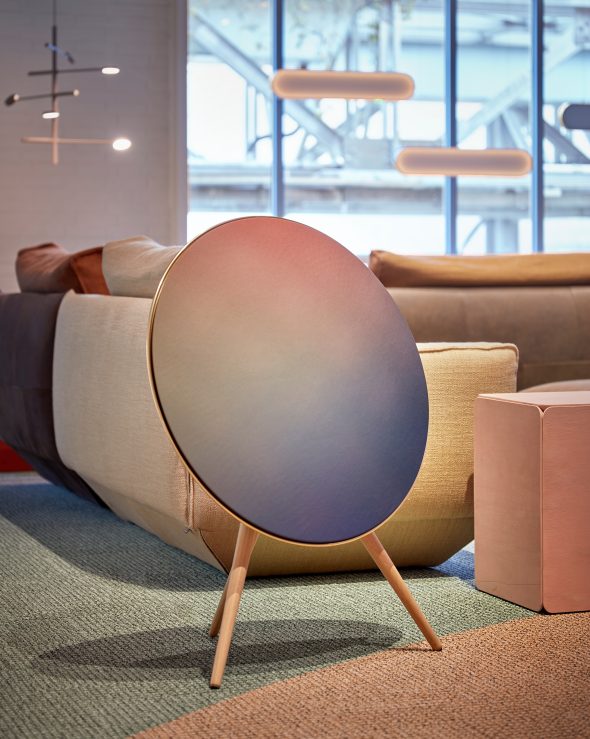 "
We had the opportunity to create a custom cover for the Bang & Olufsen Beosound A9, exclusively designed for this event and based on the curtain design.
"
Photography: Ronald Smits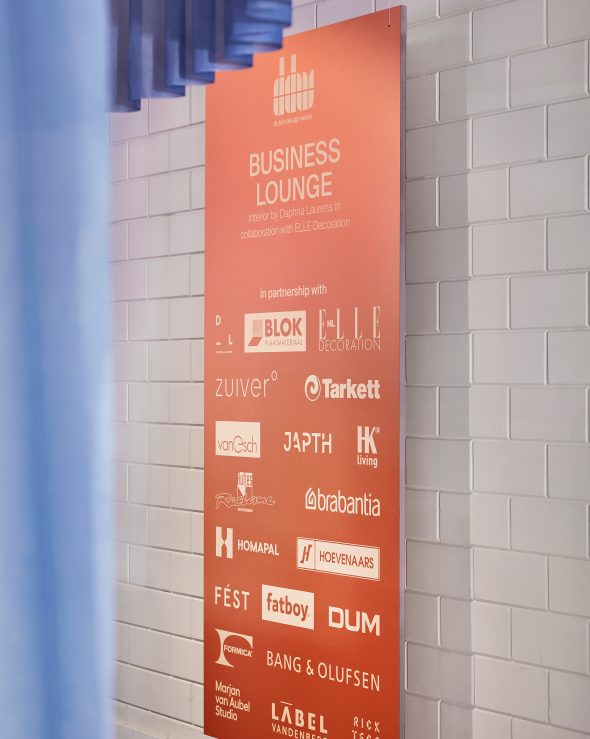 "
We express gratitude to all our partners.
"